Just A Few Of Our Favorite Things
Made Right Here In North Carolina
Sharing just a few of our favorite things by North Carolina makers, the movers & the shakers, the doers. All of the products are standouts in their field for their attention to detail & in the quality of their work & are the ones doing the most good by either making efforts to conserve this great land to donating a portion of their profits to charities's that mean something near & dear to them.
So if you're looking for a little something for someone in North Carolina or just someone who wishes they were here, take some time to check these folks out.
We do not receive compensation for these recommendations, they are genuine endorsements for products we own & love.
Seven Seed Soap Company – Newton NC
NC Coastal & Mountain Travel Candles
 Hand-poured soy wax candles in a travel tin. We take these everywhere we go. Inspired by some of our favorite spots in NC. NOTE: Corolla is not available for purchase on the website, it was a custom made request.
Order at www.sevenseedsoap.com or by calling (828) 466-2271.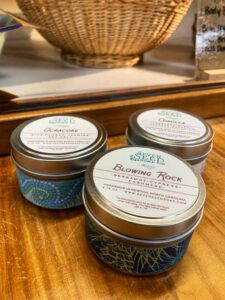 Metamorphosis Metals  – Greenville NC
Artisan Crafted Jewelry
Commissioned a couple of rings by Metamorphosis Metals for the wife's Christmas gift last year to remind her of her favorite places in North Carolina, Corolla & Ocracoke. A custom Ocean Inspired London Blue Topaz & Silver as well as a Blue Diamond & Silver Solitaire. They offer some Ready To Purchase options on their website.
Order at www.metamorphosismetals.com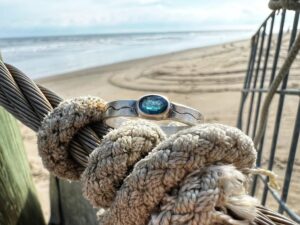 Aloe Frost Pottery – Kenly NC
Stumps & Moodies Pottery Planters
We happened across this artist at the Spring Hope Pottery Festival and we were floored. The understated quality of his playful designs that were obviously created by studying ancient pieces from tribal works to the moai monuments, Aloe Frost creates diverse but cohesive collection of planters and functional handmade pottery.
Order at aloe-frost.com or on ETSY www.etsy.com/shop/AloeFrost
Pearls & Jade pothos potted by Root Bound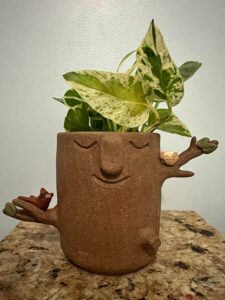 Parrot Canvas Co. – Greenville NC
Waxed Canvas Huntsman Collection
Quality totes, backpages & canvas bags made in the USA & better yet, made in North Carolina!. Parrot Canvas go their start in the marine canvas trade where the best materials and workmanship are indispensable due to the harsh environment where our products had to perform. Parrott Canvas took this same philosophy into our design and manufacture of bags and luggage as our company evolved into our present day business.
Order at www.parrottcanvas.net or by calling 252-752-8433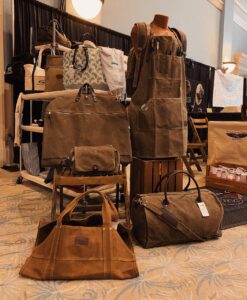 Avery Knife Works. – Banner Elk NC
Maple Burl & Resin Hunter
Every blade from Avery Knifeworks is hand-made by Raleigh Avery, in the mountains of North Carolina using unique materials of the highest quality.  Our favorites are the Maple Burl & Resin, Pinecone & Resin & Curly Maple. They have a showroom in downtown Banner Elk if you're like me and prefer to personally pick one out.
Order at www.averyknifeworks.com or in person at the showroom